I have a small problem with follow through.  I went out of my way last year to declare that it was going to be the year of the Bedroom.  I cozied up one little corner and I literally did nothing else.  In fact, I've since borrowed the items I cozied up the corner with and moved them to different areas of the house.  So, I'm totally still at square one.  What I need is a plan.  A plan that is broken down into bites I can handle.  A detailed plan that will help me stay on track.  I'm talking bullet points and due dates, people. First, some inspiration.
My main inspiration is that I want dark, saturated, navy blue walls.  My furniture is dark wood and I want to offset all of that darkness with white curtains and bedding.  I don't know if I'm the last one to the Groupon party, but I found 800 threadcount king size sheets on Groupon for $39.99 discounted from over $200.  I snatched those right up and I plan to look there first for a comforter or duvet when I'm ready to make that purchase.  The sheets are due to arrive in a few days, so I'll do some type of quick update about the quality once I've gotten my mitts on them.
I have a couple of DIY's that I want to do for this makeover, too.  I have a little desk that I want to keep in the room to act as a desk/vanity.  It needs a nice update and I'm excited about figuring out what to do with it.  I also know of an 80's king size headboard that is gathering dust in a certain attic and just screaming for some bright white spray paint.
I also have several different textiles that I need to pick out.  Curtains, comforter and throw blanket.  Like this one.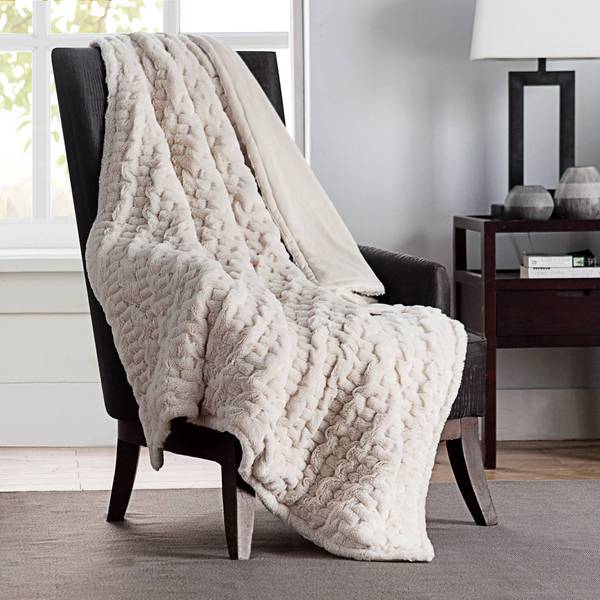 Ok, on to the bullet points.
Declutter
Paint – Ceiling and walls
Curtains
Comforter/Duvet
Headboard
Desk
Lamps
That is a good start.  Bullet points have some type of magic over me.  I I bullet it, I will do it.  Totally buying the paint this weekend.